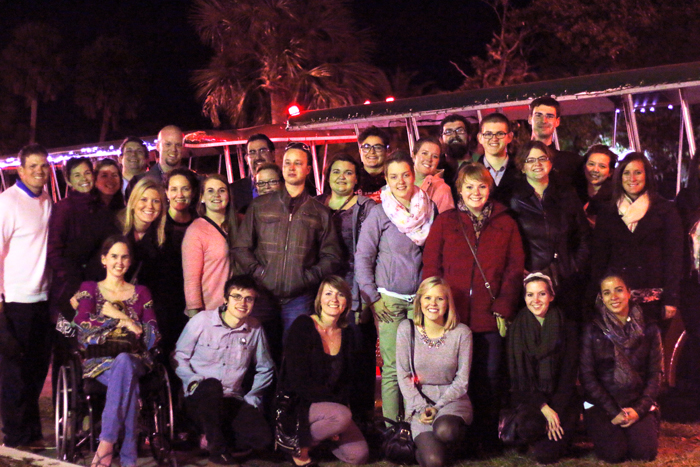 Our January group event was a great kickoff to an exciting year for Live for Today. Members and a plus one were invited to join us for dinner and a trolley tour of the beautiful Night of Lights in downtown St. Augustine.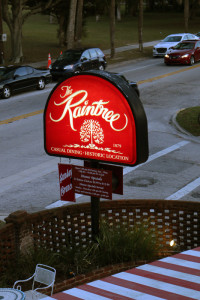 As the group arrived they were brought upstairs to the lovely private dining room at the historic Raintree Restaurant. Members and their dates caught up over stories from the recent holiday season. One of our members, Cassandra, told us all about the wonderful time she and her fiancé had while on their Life Adventure stay-cation in St. Augustine in December. Ryan, her fiancé, actually proposed to Cassandra during their stay-cation weekend!
Other members, Kathleen and Emma, shared their excitement over their upcoming Life Adventures, both of whom have exciting surprises in the very near future! Over salad and bread, our members enjoyed getting to know each other's dates whether it was a husband or wife, friend, sibling, or roommate. For many of the plus ones, it was their first time at a Live For Today event and a great opportunity to see what our foundation does for their loved ones.
We also got to meet Erin Mobley, one of our newest members and survivors, who brought her roommate to  the event. Erin told us that she appreciated the opportunity to be around so many young adults who are facing some of the same difficulties she did while undergoing treatment.
As the main course was served, the group continued conversation while enjoying the meal. Just when we thought we were finishing up, a decadent individual creme brûlée appeared in front of each of us. Chatter about our new years resolutions surfaced and many agreed to embrace the moment and enjoy, guilt-free!
After leaving the Raintree, our own personal trolley guide greeted us and passed out 3D glasses to enhance our tour of the Nights of Lights. Once on the trolley, many couples snuggled up to enjoy the tour and the chilly winter night. Through the 3D glasses many of us were amazed at how intensified and beautiful the lights appeared.
This group event was the best turnout we have ever had and the founders were all really excited to see how much our group had grown. We felt that by allowing everyone to bring someone, it allowed us to get to gain a better perspective of our members. Personal connections are important within our group and we want everyone to feel comfortable and welcome at all of our events. We look forward to incorporating more +1 events for our members in the future!
A special thanks to the Raintree Restaurant for accommodating our group and to Old Town Trolley Tours for the fantastic Nights of Lights tour.