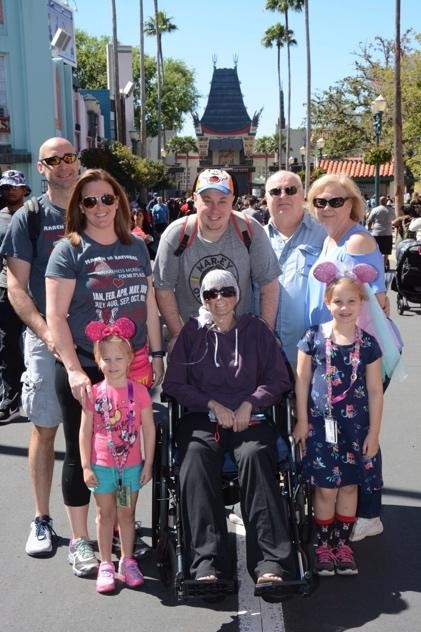 Katie Asble fought Multiple Myeloma with bravery for four years. During treatment she faced with a roller coaster of crushing challenges including chemotherapy, procedures, horrific side effects, and eventual treatment failure. After being told that they had exhausted all treatment options, her family knew her remaining days were limited.   
With this news, Katie was determined to spend her time with those who meant most. Her dream was to provide her daughters a magical trip to Disney World and an opportunity to create memories made to last.
Her love for her husband Zachariah, and her girls Alyssa (7) and Mikayla (4), gave her the courage and strength to keep fighting. That perseverance inspired the team at Live for Today to give Katie and her family the chance to experience precious time outside of their daily pain and struggles. 
Working directly with Katie, who wanted to surprise the girls – Live For Today planned a three day, three park vacation for the Asble family. They visited Disney's Magic Kingdom, Hollywood Studios and Animal Kingdom. Although Katie's health was rapidly declining, she exhibited extraordinary strength to make this trip special for her girls.
Because time with Katie was so precious, her mother and father as well as one of her brothers and his girlfriend wanted to accompany Katie and Zach to Disney. Live for Today wanted to make that accessible for her family and set to work finding a hotel or condo to accommodate all of them close together, however, that proved quite a challenge. Fortunately, after a plea poested on Facebook, a board member from Apryle Showers Foundation, Albie Macdonald, contacted Live For Today with a generous donation from a property owner of a beautiful 6 bedroom, 6 bath home near Magic Kingdom.   
"The chance to make a dream come true for one of our members is one of our most cherished honors and we knew that the responsibility to make this trip special for the Asble's was particularly important."

-Lauren,  Live for Today Foundation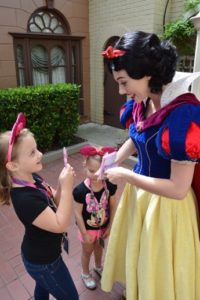 Katie, Zach and the girls were all given gift packages from Live For Today including sparkling Minnie Mouse ears, princess autograph books and card holders, pins for trading and other gear to use on the trip.  Live For Today also provided breakfast and snacks, a gift card for meals at Disney and travel expenses.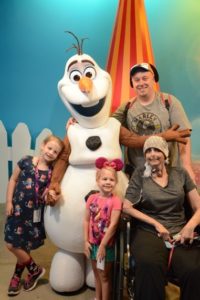 On the second day, the family enjoyed Hollywood Studios together. Highlights included meeting Mickey, Olaf, a character lunch and a spectacular night show with all the Disney characters. On their final day, the family visited Animal Kingdom where they were able to get up close and personal with African animals on safari all while enjoying lunch at the Rainforest Café.
"My favorite part of the trip was the the incredible Lion King show and Parade."  

– Katie Asble
As part of the Life Adventure, Live for Today arranged for the Memory Maker package so that their trip can be documented in pictures and prepared by Disney. They captured some pretty special moments of Katie, Zach, and their girls, Alyssa and Mikayla, creating memories that they will forever cherish.  
Unfortunately, less than three weeks after this magical family trip, Katie passed away.
Katie faced death with her unflappable attitude of acceptance, strength and grace and will always be remembered as a strong, loving woman who was a fighter, a believer, and wonderful mother. Loved and cherished by her husband, Zach and daughters, Alyssa and Mikayla.
Together, they all wore custom made shirts to raise awareness for Multiple Myeloma in support of the type of cancer Katie fought for so many years. It was our great pleasure to help this wonderful family spend some of their last days together, laughing and smiling. Katie's memory will forever be a reason why Live for Today exists.