There's nothing quite as rejuvenating as a night out with the gals. So on Friday, October 16th, the ladies of Live For Today gathered in the heart of San Marco, at Stasis Salon, for Girls Night Out! Many people don't realize the demanding schedule of someone fighting cancer. Combining treatment, check ups, and a resulting lack of energy can definitely make it feel more like a full-time job. Our goal was to allow our female members to relax, experience some pampering, indulge in some girl talk, and live life as healthful as possible.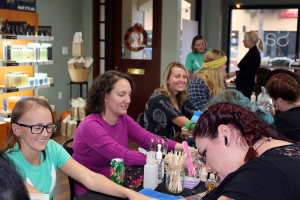 Upon arrival, the hospitable Stasis staff greeted members with not only a friendly introduction, but also the offer of a hand massage. Commence relaxation! Additionally, several students from the Aveda Institute were on site to make sure everyone's nails were in tip-top shape. While many of the ladies jumped right into manicures, others got to know each other a little better over dinner.
With many thanks to 904Fresh, there was a healthy, beautiful, and delicious spread available. Colorful salads and homemade dressings were displayed along side veggie sliders, fresh toppings, and trays of fresh fruits and vegetables. While no girls' night out is complete without some comfort food, our members were able to fill up guilt free. The biggest hits of the night were the creamy, vegan mac and cheese and the fudgey black bean chocolate cake bites.
It was great to relax with Live For Today. I think I speak for a lot of the members when I say that most appointments I make are stressful, medical ones, so it was nice to have an appointment for relaxation!
Jolie
Hodgkin's Lymphoma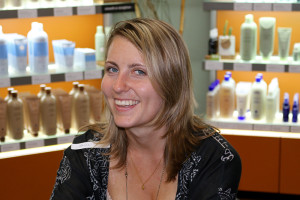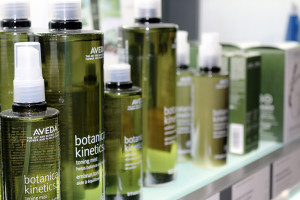 With drying nails, full tummies, and new friends, members were ushered toward the back of the salon for a little bit of learning. With a focus on plant based, rejuvenating, hair products and make up, the ladies of Stasis Salon briefed the group on the best skin care practices. They also took some individual time with each young lady to address how to properly apply blush and contour shades to their face shape, or discuss any particular concerns they may have expressed. The room was filled with an overwhelming sense of empowerment! It was undeniable that as confidence was rising, worries and stresses were falling away.
As the event came to a close, old friends exchanged heartfelt goodbyes and new friends pulled out their phones to ensure future connection. All the girls walked out with fresh faces to enjoy the rest of the crisp, fall evening and were even given an Aveda-filled goody bag. So many thanks to Stasis Salon, the Aveda Institute, and 904Fresh for helping to make this night a success for our deserving young women!