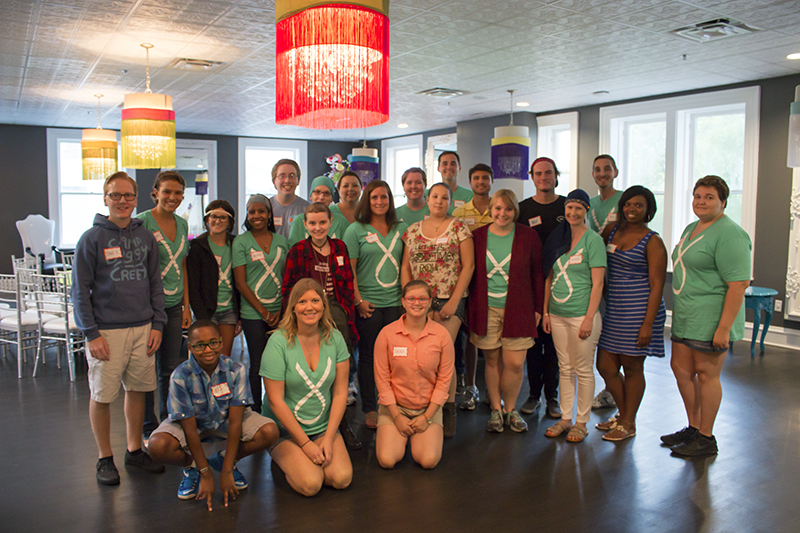 While healthy living is top of mind for this group, it never hurts to indulge in a sweet treat from time to time—and there is no better place to satisfy a sweet tooth than Jacksonville's own Sweet Pete's. A routinely stormy summer evening didn't stop the Live For Today members from venturing out in the rain for July's member event.
Recently made locally famous thanks to at feature on CNBC's hit show The Profit, Sweet Pete's is not your run-of-the-mill neighborhood candy store. Housed in a beautiful century-old mansion in the heart of downtown Jacksonville, it boasts being one of the largest candy shops in the US. You can truly spend hours wandering around sampling the thousands of different candies, cupcakes, and chocolates.
For this particular event, the group got to partake in a unique offering at Sweet Pete's: their hands-on candy-making classes. We were thrilled to have children and teenagers from Nemours Children's Hospital join in on the fun, as well. As members and visitors started to fill the room, there were a few surprise-filled shrieks of joy between LFT members and the Nemours crew, as many of them had met each other previously through treatment or other outreach programs in the Jacksonville community. The members were excited to introduce familiar faces to their new friends in the LFT group.
After getting to know the new visitors and catching up with one another, the group dug into a delicious buffet filled with healthy, nutritious options—and a few candy-inspired treats, including "Cupcake" Macaroni and Cheese. The mini-desserts were a big hit—when they're that small, there's no harm in trying all three flavors… right?
The candy-making connoisseur Steve introduced himself before escorting the group over to the candy-making station—a large countertop equipped with all kinds of jars, tools, and foreign objects we later found out were all crucial elements in the lollipop creative process.
Strawberry was the winner of a group vote when Steve asked for everyone's favorite flavors, so he got to work on creating the base of the lollipops. The members looked on in awe as he scattered out random powders, liquids, and waxes, slowly mixing and kneading the ingredients until a dough-like substance formed. Everyone was skeptical that the oddly colored pink loaf before them would soon be a delicious lollipop, but that didn't stop them from whispering about different ideas and shapes they planned on making.
As he began passing out the portions of lollipop dough, Steve warned that the members only had about a minute or less to mold the lollipops before they solidified. So began a hilarious race back and forth from the candy cart to the shaping table as the members quickly attempted to make their masterpieces. Many laughed at their creative attempts and made a game out of guessing what others pops were supposed to resemble. Many giggled as they compared their speculation to a Rorschach inkblot test.
The one lollipop that several succeeded in making (and all recognized) was the Live For Today ribbon – a symbol of unity among both the members and the group from Nemours, serving as a meaningful symbol and reminder of the shared experiences that brought this special group together to support one another.
A special thank you to our new Nemours friends for joining us – keep in touch, and we look forward to officially welcoming you to the program someday!