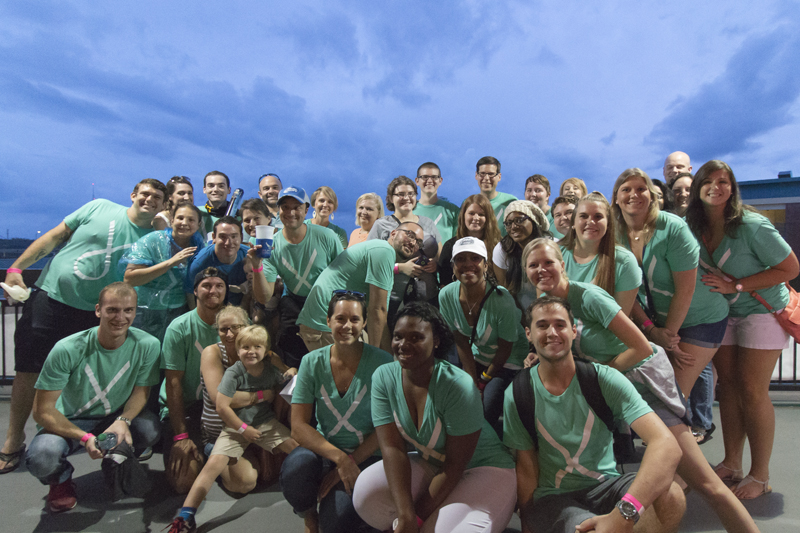 Live For Today members and their guests gathered together outside Community First Park on Saturday evening to cheer on the Jacksonville Armada FC! Nothing brings such life and energy as rallying for a new local team. The Jacksonville Armada Football Club is part of the North American Soccer League which expanded to Jacksonville this past spring. Members were thrilled to get a taste of the action!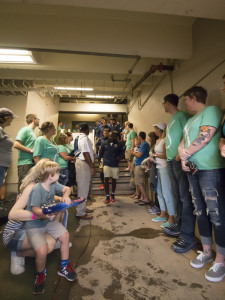 As a matter of fact, members got to see some of it up close and personal. They stood in the dugout as the team made their entrance and on the sidelines for a portion of the warms ups. The energy of the team was contagious and had everyone excited for a win. Especially after witnessing some of the Armada's hardcore fans in the infamous "Section 904."
Due to Florida's crazy weather there was an extended kick off delay. Live For Today-ers know how to roll with the punches and took this opportunity to get better acquainted and catch up with each other in the Sundowner's Lounge. It also offered a breath taking view of the St. John's River and some photo opportunities to remember the evening by!
Once the weather calmed down everyone moseyed to the concession stands and their seats ready to take on the San Antonio Scorpions! Hooping and hollerin'… the good spirits in the section caught the eye of 93.3's T-Roy. To help him out with Military Appreciation Night, the group was featured on the big screen waving American flags with pride and graciousness for our service men and women present that evening.
After 90 minutes of intense back and forth and a hilarious half time show the Armada tied their opponents 0-0. It was a great game to experience! The evening wrapped up as the fighters, survivors, and guests made their way onto the field to say their goodbyes and take one final photo with the team mascot, the Kraken!