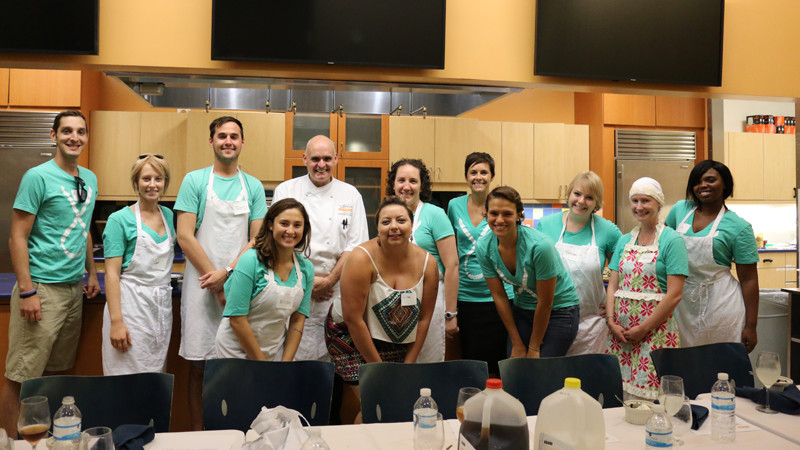 Eating healthfully—it should be a top priority for everyone. For a young person in the fight of his or her life, it is imperative. The body requires quite the regimen of nutrients to go head-to-head with cancer in the chemotherapy ring! However, in today's fast-paced world of casual dining and a marketplace of misleading advertisements, it can be difficult to distinguish the healthiest choices. Cooking at home grants complete control over each meal and allows for many healthy substitutions. Too bad we aren't all chefs!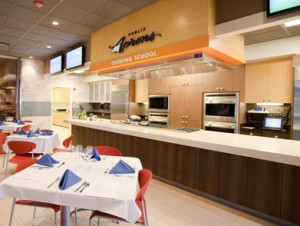 With many thanks to Ackerman Cancer Center, Live For Today members were provided with the opportunity to attend a class at Publix Apron's Cooking School! The group kicked off Saturday morning with a menu designed to promote a plate rich in delicious vegetables and low in sugar.
Class instructor, Chef James, was enthusiastically welcoming, using excitement to capture the class's attention and his extensive technical knowledge to empower individuality and accomplishment in the kitchen! Chef James took ample time to express and demonstrate how to take a recipe and own it—rather than just follow it explicitly. This way, one hopefully creates a dish of their own and has fun doing so!
Immersed in a rainbow of veggies, the class practiced knife skills, sautéing, flavoring, measuring, mixing, and even— the often-overlooked fundamentals of ingredient planning, prep time reduction, and multitasking. It became an incredibly bonding scenario when members worked together to accomplish cooking tasks and unify the separately prepared items into one scrumptious result to share! A few members rolled out the fresh-made, whole-wheat pizza dough while others sautéed together the mushrooms, spinach, and diced peppers. Some assembled casserole dough while partners mixed and seasoned ingredients.
After about two hours of hard work, the class sat down together to enjoy the satisfaction of the final product served by Chef James! The full four courses included Potage with homemade vegetable broth, Spanakopita Casserole, Mushroom and Radicchio Thin Crust Pizza, and Black Bean Fudge Cake. There's nothing better than a delicious meal and great company. It's even better when the class walks away with the knowledge and skills to be a little more empowered in their own kitchen and inspired to learn more!
Thank you to Ackerman Cancer Center and Publix Aprons Cooking School Jacksonville for your generosity in making this event a reality!