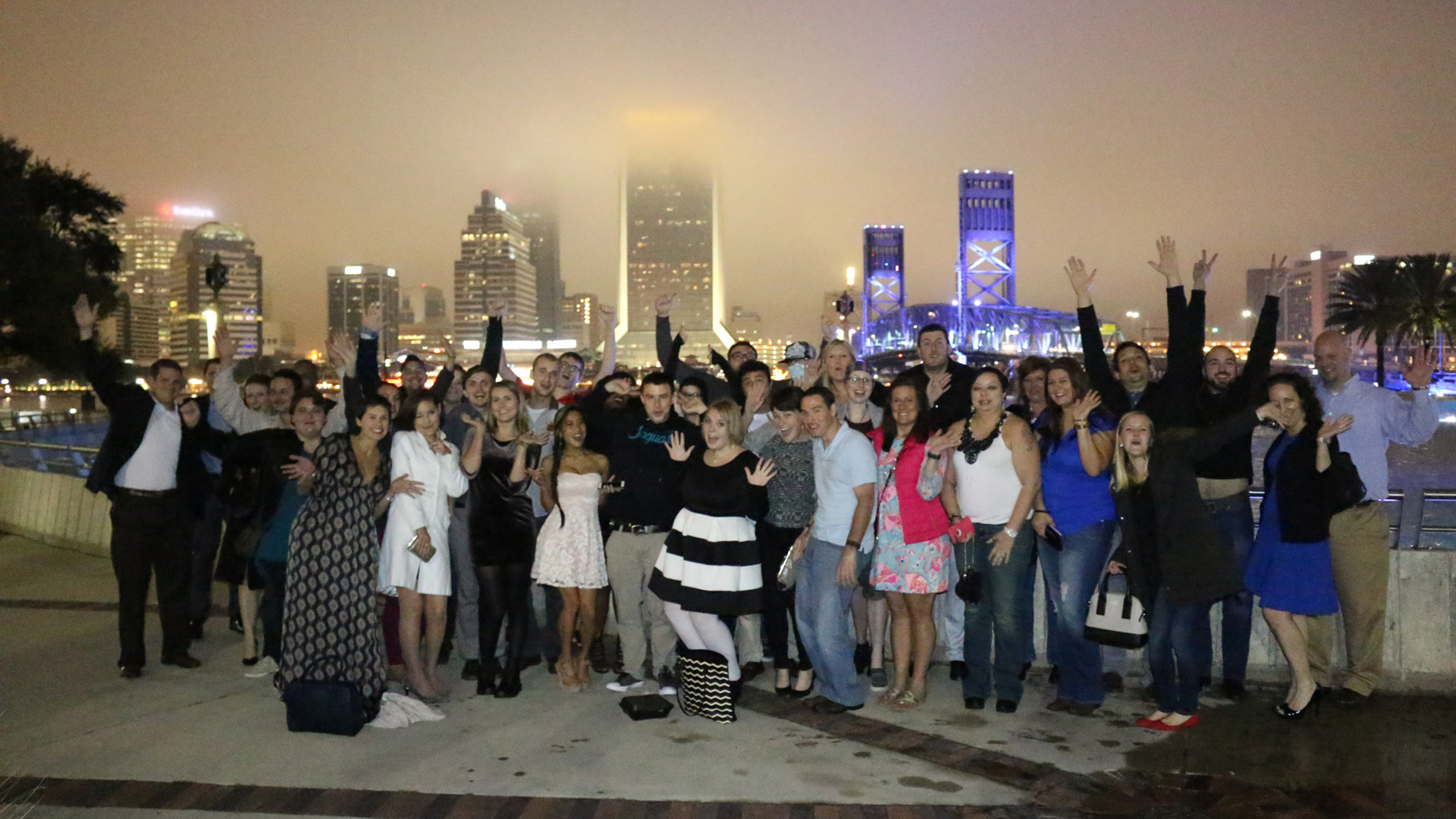 With another year coming to a close, the Live For Today Foundation is focusing on more than just today. This time of year signifies a milestone, looking at all of our accomplishments for last year and setting new goals for this year. To celebrate, it only felt natural to have everyone together for a post holiday party at a Jacksonville landmark, River City Brewing Company.
It was a refreshingly crisp January evening, barely a week into the new year, as Live For Today Members made their way downtown. The group was all dressed up for the party and matched the glowing city behind them. With over 40 in attendance it was the largest event to date, but had the relaxed energy of an overdue family reunion.
River City Brewing Company proved to be an amazing venue for a group of this size. Being escorted into a raised portion of the dining room, the St. Johns River made an incomparable view as Members entered and began mingling. The beautiful blue lights of the Acosta Bridge played along with those of Jacksonville Skyline as everyone broke up into smaller, more intimate groups to dine.
The delectable three-course meal allowed Members the options of classics like shrimp and grits, braised beef short ribs, drunken salmon, and chicken marsala. Despite copious conversation the entrees seemed to disappear rapidly. Everyone was prepared for dessert: key lime pie, New York style cheesecake, or a truly sensational chocolate tort.
To wrap up the evening the group said their goodbyes on a short walk next door to the Friendship Fountain. Upon its opening in 1965, the Fountain of Friendship was the tallest and largest fountain in the world, capable of spraying water 120 feet into the air. Presently, it is a Jacksonville landmark, uniquely accented with colored lights that shimmer off the surface of the water. What a wonderful place to commemorate the New Year!